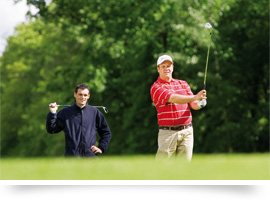 Training and Courses are given by our certified instructor, Geoffroy Auvray.
There are several possible packages: individual, couple, or group classes.
Group classes over the course of several days with or without room and board are also available for juniors and adults.
Find out more about our packages ranging in duration from one month to one year.
Lessons
Public prices
Golf training sessions (accomodation is not included)
Public prices
Individual lesson 30 minutes
€

25

Group courses 5 days (2 hours/day)
€

250

Individual lesson 30 minutes (club members)
€

20

Junior group courses 5 days (2 hours/day)
€

190

10-lesson package 30 minutes
€

250

Group courses 2 days (2 hours/day)
€

120

10-lesson package 30 minutes (club members)
€

200

School of Golf from 6 to 17 years old
€

120
Our formulas
Individual
Corporate

Formula 1 month Discovery

(4 thirty-minute lessons, access to the compact course, equipment lending)

€

99

€

85

Formula 3 months Green Card
(12 thirty-minute lessons, access to the compact course, equipment lending,

3 green fees (9-hole course), Green Card examination)

€

350

€

280

Formula 12 months Beginner
(10 thirty-minute lessons, access to the compact course, equipment lending)
€

690

€

1280