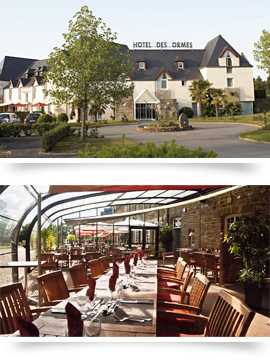 Le Domaine des Ormes offers many options in terms of on-site accommodations. The Hotel is often the top choice for golfer. With an ideal location across from the Driving Range, it allows you quick access to the Training Centre.
In the Accommodations section of our web site, you'll find a complete description of the hotel and our other accommodations, including the magnificent rooms above the Clubhouse and our wooden cottages for your family golf outings.
When it comes to dining, you also have a wide range of options. The Clubhouse offers brasserie-style cuisine and hot snacks all day long for when you are craving a post-game treat. The Restaurants section provides you with a description of our restaurants, particularly l'Oie Gourmande (The Gourand Goose), ideal for group dinners for golfers.
We also invite you to visit Leisure and Activities to find out more about all the services we offer at Le Domaine.