History
History of the Chateau and family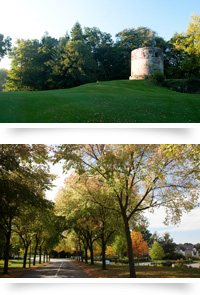 Introduction
The first written accounts of Le Domaine date from the 12th century.
It has been the site of the summer residence for the Bishops of Dol de Bretagne since the 13th century. It included a fortified manor (now the golf course car park) next to the large pond, protected by an outer wall of more than three kilometres in length, a series of "wolf jumps" (a ditch dug at the edge of a park to defend the entrance without obstructing the view) and a tower - known as a "fire tower" – that still stands on the golf course.
This tower is located on the highest point of the site where the watchmen lit warning fires to warn of the arrival of invaders by sea. In an irony of history, the main invaders were English!

The name "Domaine des Ormes" derives from the type of tree common throughout the area. This species, decimated throughout Europe by Dutch elm disease in the sixties, was replaced by a resistant hybrid variety many years later on the main access road to the grounds.