History
History of the Chateau and family
Life of the Grounds since 1860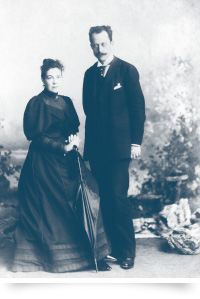 The Houitte de La Chesnais family moved onto the grounds in 1900, at which point the Château became a farm. In 1960, Yvonnick de La Chesnais took over the family farm business, and it prospered under him until 1977.
Until that time, the outbuildings of the Château were for agricultural use.
In 1976, when preparing a proposal for the construction of a new barn, Yvonnick and his wife were visited by a friend who managed a chain of high-end campgrounds: Castels Camping. He suggested that open a campground on the site, which "had some potential."
After a week of reflection, the owner changed the purpose of the loan and requested funding for toilet facilities instead of a new barn. Thus, Le Domaine des Ormes gradually turned into an incontrovertible destination for tourists.
Over the course of time, the grounds developed, grew, and offered new activities. The outbuildings were renovated and hosted seminars, housed the golf Clubhouse, or were converted into restaurants. And the adventure continues!