Cast off the moorings and drift according to your desires...
After the tree houses, discover the raft houses. Built on the same green building principles, they are a new way of escaping for a night or a weekend. Drift along according to your desires..
The raft houses are set up on small ponds in the heart of the Domaine. The house is built on a barge, and depending on the water level, you can drift slowly with the help of a large oar.
Rest assured: a cord allows you to keep contact with the shore.
2 types of house are available: for 2-3 people of for a family.
Without water and electricity, the cabins on the water are equipped with a dry-pit toilet.
Arrival time: you will receive an email inviting you to choose your arrival time in our schedule
Departure time: before 11am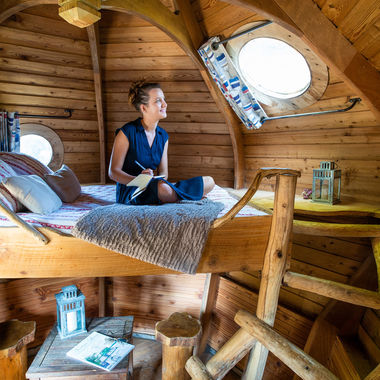 2 types of raft-houses, choose yours!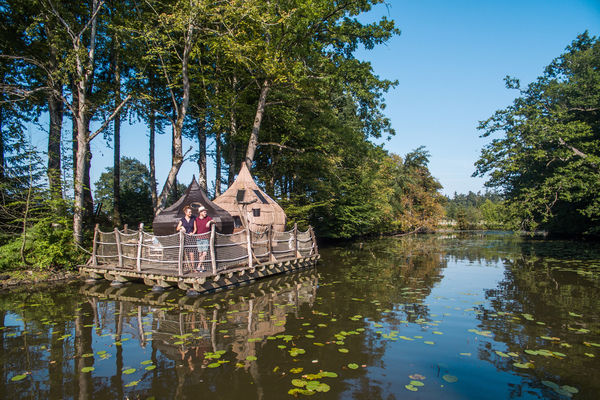 From€125per night
Raft-houses (2-3 people)
Up to 3 people. From 6 years old.
Welcome aboard for a night or a romantic weekend on the water and let yourself be guided.
See the Raft-houses (2-3 people)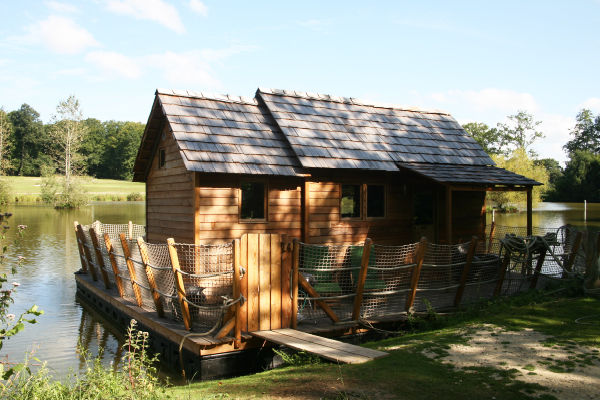 From€125per night
Family raft-houses
Up to 5 people. From 6 years old.
Vogue on the water with your family... And children but also parents are happy!
See the Family raft-houses

In 2003, Les Ormes built their first house in the trees. It was the wedding gift from Arnaud to his sister Sonia for her honeymoon. Built next to the Chateau, this treehouse perched up above intrigued customers .. So, the idea was launched!
In 2004 Les Ormes imagined the treehouse concept for its customers - a first in France!
Today, there are 30 cabins (26 and 4 in trees above the water) situated at the heart of the 200-hectare park of Les Ormes.