Are you looking for the perfect holidays for nature lovers? What about discovering some atypical accommodations in Brittany? Turn your stay into an adventure and choose our camping huts ! Enjoy a one of a kind experience without losing your comfort.
An atypical accommodation in Brittany
It's finally holiday time, and you are looking for an atypical accommodation in Brittany? Holidays with your family or your friends are a special time. How about making the most of it and disconnect completely with your everyday life? If you choose our camping huts, you will be assured to spend unusual holidays. The hut is the perfect compromise between an atypical stay and your comfort. This little wooden cabin surrounded by nature will surprise you by its original look, authentic and welcoming. Just a few centimetres away from the ground, there's no need to be afraid of heights or the water, the camping hut will suit everyone who doesn't want to experience heights. With its southern exposure, this cabin is perfect for relaxing holidays.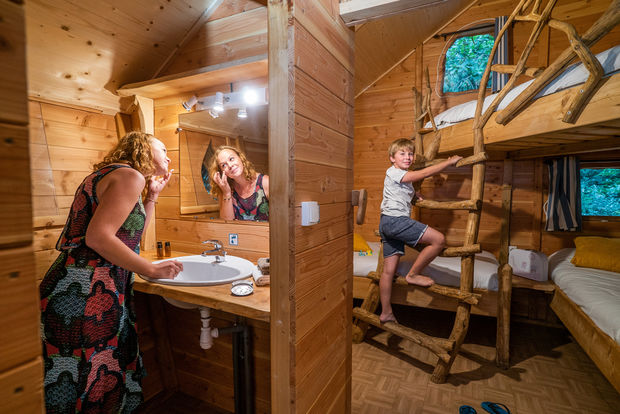 Les Ormes: the perfect domain for holidays for nature lovers
To provide you with an unforgettable stay, the environment is our main concern and we are dedicated to offering you the best possible surroundings. It's a 200 hectare domain waiting for you, whether you chose to come with your friends, your family or your beloved one, everything is planned for your well-being and your relaxing moments. Swimming pools, a golf course and a mini golf or even archery… Various activities and shows will give the rhythm of your day. A children's club will welcome your little ones, who will be followed by our activity leaders, so you can enjoy a moment of calm.
Don't wait any longer to book your own camping hut at Le Domaine des Ormes and get ready to spend an unforgettable stay in a perfectly preserved environment.