Are you planning a getaway and looking for unusual or atypical accommodation? How about treating yourself to a treehouse holiday in France? This original idea allows you to fully enjoy nature and the surrounding environment, like you've never seen it: from the treetop! Discover the Domaine des Ormes' many hosting possibilities. Whether you're looking to spend a holiday with family or friends, our French tree houses welcome all those who want to feel a little adventurous for one night... Or more!
A French tree house: make a dream come true
Make an old childhood dream come true and find yourself sleeping in a beautiful wooden house built in the treetop. At Les Ormes Domaine & Resort, tree houses hold a special place in the owners' family history: it was a family wedding gift! Since then, tree houses have always been special at Les Ormes. Come and discover why and be amazed by our quality accommodation and your memorable holidays on the Domaine & Resort. Perched at 4 to 20 meters high, you will be able to take a step back from your everyday life. Live with the natural rhythm of birds, hear the wind gently rustling in the leaves of your tree… Your atypical wooden host lets you admire the stars from a spacious terrace... An unforgettable experience for sure.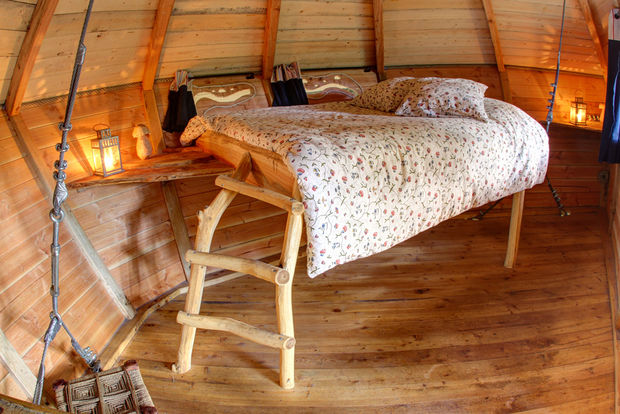 Each of the 26 cabins scattered over the 200 hectares of the park is unique. Feeling intrigued by our atypical accommodation? Come and spend the holidays in a tree house: adults and children are bound to keep wonderful memories of their stay. Three types of tree houses are available: ladder tree houses, zip-wire tree houses and family tree houses, which can accommodate up to 12 people. Our tree houses are ideal for couples, friends, families or any fun event.
Your holidays in a tree house: sleep adventurously!
Lose yourself in the foliage of the tree that welcomes you and enjoy the unique treetop view. The ladder tree houses are accessible from the age of 12. For the more adventurous ones, Tyrolean tree houses (zip wire) are accessible from the age of 16. For a sensational holiday, try our atypical accommodation: come and enjoy a special moment in time in our French tree houses.