Ideally located near Saint-Malo, Les Ormes Domaine & Resort welcomes you. Looking for holiday rentals in Brittany? France has a lot to offer holiday-wise and Les Ormes proposes refined as well as atypical accommodation for your holidays. Rent a tree house or a raft house, lounge around our pools, sit back and relax: your perfect French holiday is here at last!
Finding large holiday rentals in Brittany
Up for a tour around the beautiful coastal areas of Brittany? Discover Saint-Malo with family, friends or even colleagues as part of a business seminar. Jot down a few destination ideas for your visits and excursions and off you go: the Mont-Saint-Michel is only a few miles away.
Searching for large holiday rentals in Brittany? For your accommodation, Les Ormes proposes several types of accommodation.
Choose a classic hotel stay or an apartment rental if you are visiting with a large group of people. Nature lodges can accommodate up to 8 persons. Our tree houses located up in the forest can accommodate up to 12 persons depending on your needs. Go for a raft house rental if you fancy some proper chillout time on our beautiful ponds! We also provide quality accommodation in camping huts. Opt for a stay in our "gîte", for a very traditional Breton stay with a private garden around. In the Club House, our refined and charming Club House rooms furnished in a beautiful cottage style will offer you a breathtaking view of the castle.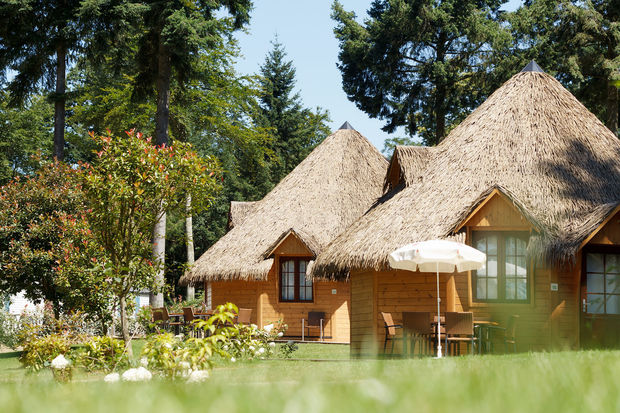 Discovering Brittany
Your holiday rental in Brittany [VE1] is the perfect occasion to set for new adventures and discover the beauties of the coastal area. Gorgeous beaches, picturesque trails and summer leisure activities… Between the old town in Saint-Malo, the Mont-Saint-Michel nearby and the natural wonders of Brittany, your Breton holiday is full of promise. Appreciate elegant and typical old-fashioned architecture in Dinard and enjoy scenic views along the way. A charming holiday ahead!